Free Clipboard Viewer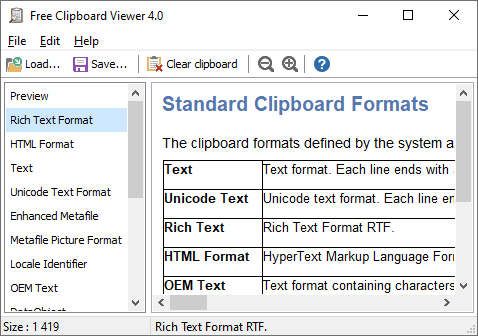 A free, full-featured, and portable clipboard viewer
Free Clipboard Viewer is a program used to view the information stored in memory when you use the copy and cut functions of the Windows operating system. A clipboard viewer displays the current content of the clipboard.
Most applications for Windows support cutting or copying data to the Windows Clipboard and pasting data from the clipboard. The clipboard data formats vary among applications. The clipboard viewer is just a handy way to know what's on your clipboard at different times.
The clipboard temporarily stores whatever you've cut or copied. The clipboard's contents change as soon as you cut or copy something else.
Other useful features
Free Clipboard Viewer allows you to save clipboard data and load clipboard data from a file. So you can transfer clipboard contents between computers.
The program also lets you clear the clipboard and memory occupied by a large object. To clear the contents, click the Delete button on the toolbar of the clipboard viewer tool.
All clipboard formats
Any application can place more than one object on the clipboard, each representing the same information in a different clipboard format. Free Clipboard Viewer lists the available formats for any data that is currently stored on the clipboard. It automatically updates the information displayed as the contents of the clipboard change. You can also view the clipboard contents, size, and description for any format.
Run it from your portable USB flash drive
Free Clipboard Viewer is a totally portable application, meaning that you can put it on any USB stick and run it directly from there. In this way, your clipboard viewer and manager will always be with you.
---
Do you need more information? Take a look at the help page: Online Help.